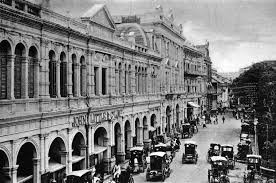 The earliest known mention of Singapore was a 3rd century Chinese account which described Singapore as "Pu-luo-chung" ("island at the end of a peninsula"). Little is known about the island's history at that time but this matter-of-fact description belies Singapore's colourful past.
By the 14th century, Singapore had become part of the mighty Sri Vijayan empire and was known as Temasek ("Sea Town"). Located at the natural meeting point of sea routes at the tip of the Malay Peninsula, Singapore had long known visits from a wide variety of sea craft, from Chinese junks, Indian vessels, Arab dhows and Portuguese battleships to Buginese schooners.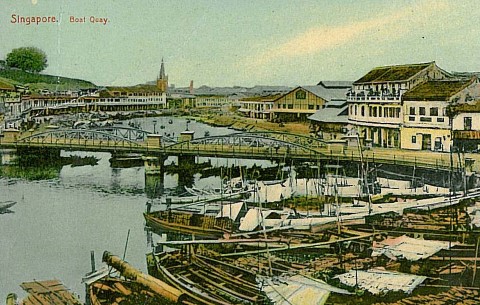 During the 11th century, this small but strategically-placed island had earned a new name - "Singa Pura" ("Lion City"). According to legend, a visiting Sri Vijayan prince saw an animal he mistook for a lion and Singapore's modern day name was born.
The British provided the next notable chapter in the Singapore story. During the 18th century, they saw the need for a strategic "halfway house" to refit, feed and protect the fleet of their growing empire, as well as to forestall any advances by the Dutch in the region.
In late l818, Lord Hastings, Governor-General of India, gave tacit approval to Sir Stamford Raffles, Lieutenant-Governor of Bencoolen, to establish a trading station at the southern tip of the Malay Peninsula. On 29 January 1819, Raffles landed on the island of Singapore after having surveyed other nearby islands. The next day, he concluded a preliminary treaty with Temenggong Abdu'r Rahman to set up a trading post here. On 6 February 1819, a formal treaty was concluded with Sultan Hussein of Johor and the Temenggong, the de jure and defacto rulers of Singapore respectively.
It was against this political backdrop that Sir Stamford Raffles established Singapore as a trading station. The policy of free trade attracted merchants from all over Asia and from as far afield as the US and the Middle East.
By 1824, just five years after the founding of modern Singapore, the population had grown from a mere 150 to 10,000.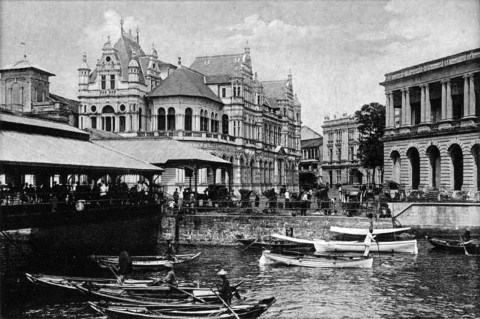 In 1832, Singapore became the centre of government for the Straits Settlements of Penang, Malacca and Singapore. The opening of the Suez Canal in 1869 and the advent of telegraph and steamship increased Singapore's importance as a centre for the expanding trade between East and West.
Singapore had been the site of military action in the 14th century when it became embroiled in the struggle for the Malay Peninsula between Siam (now Thailand), and the Java-based Majapahit Empire.
Five centuries later, it was again the scene of significant fighting during World War II. Singapore was considered an impregnable fortress, but the Japanese overran the island in 1942. After the war, Singapore became a Crown Colony. The growth of nationalism led to self-government in 1959 and on 9 August 1965, Singapore became an independent republic.
Singapore & India Connection
Early Settlement of Indian Migrants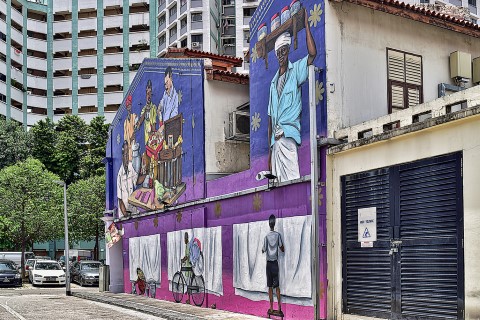 When Sir Stamford Raffles sailed into Singapore in 1819, with him was an entourage of 2320 Indian settlers in Singapore, and they resided mainly in the area near Chulia Street in Chinatown, which Raffles had originally designated for the Indian community. In the late 19th century, many Indian migrants came to Singapore to find work, be it to build roads, clear swamps or to take up key positions in the civil service.
Two major reasons for the influx of Indians into the site where Little India stands today were the introduction of cattle-rearing on the fertile land near Rochor River by wealthy cattle merchants such as Mr Belilos (a Jewish Indian from Calcutta), and the building of the Race Course for the Europeans nearby in 1843. Immigrants from Calcutta, Madras and Malaya flocked here and by the turn of the century, this area, once covered in gambier, banana and vegetable plantations, had become a flourishing commercial centre for the Indian community. Spreading out from both sides of Serangoon Road, this little enclave of the Indian community became fondly known as Little India.
While contact with ancient India left a deep impact on Singapore's indigenous Malay culture, the mass migration of Indians to the island only began with the founding of modern Singapore by the British in 1819. Initially, the Indian population was transient, mainly comprising young men who came as workers, soldiers and convicts. By the mid-20th century, a settled community had emerged, with a more balanced gender ratio and a better spread of age groups.
Singapore's Indian population is notable for its class stratification, with large elite and lower income groups. This has grown more visible since the 1990s with an influx of both well-educated and unskilled migrants from India, which has created new contradictions. Today, Indians earn higher average monthly incomes than the Chinese or Malays and are more likely to hold a university degree than these groups. At the same time, Indian primary and secondary school students perform lower than the national average at major examinations.
Singapore Indians are linguistically and religiously diverse, with ethnic Tamils and nominal Hindus forming majorities. Indian culture has endured and evolved over almost 200 years. By the 1990s, it had grown somewhat distinct from contemporary South Asian cultures, even as Indian elements became diffused within a broader Singaporean culture. Since then, new immigrants have increased the size and complexity of the local Indian population. Low-cost carriers, cable television and the Internet now connect the local Indian community with the culture of India and the Indian diaspora.
Prominent Indian individuals have long made a mark in Singapore as leaders of various fields in national life. Indians are also collectively well represented, and sometimes over-represented, in areas such as politics, education, diplomacy and the law.
Odisha Footprint In Singapore
In mid 80s, modern Singapore started attracting Indian expats to join its growing economy into Singapore and this led to young and ambitious odiyas to come to work and live in Singapore.
1st person from Odisha arrived in Singapore in 1987 to add another diverse community to its existing Indian ethnic society. Since then the flow of odiya migrants continued to grow in Singapore. Odia population in Singapore is estimated to grow to 1,000 by the end of 2008. Most of odiya migrants are employed in different sectors (Education, Information Technology, Manufacturing, Banking etc.).