Odisha is one of the most visited states of India, which is known, mainly, for its splendid temples. A tour of the various temples of the state enables one to explore many interesting aspects of the Hindu religion. People come from all over India as well as the world to visit the temples. Out of these, the two most prominent as well as mot revered ones are that of Long Jagannath and Lingaraj (Lord Shiva). In this section, we have covered almost all the important temples of Odisha.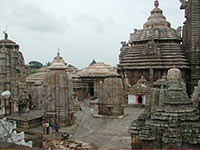 Lingaraj Temple
Lingaraj temple is one of the most popular temples of Odisha. The temple is dedicated to Lord Shiva, also known as 'Lingaraj'. It is adorned with beautiful sculptures, which have been carved on the spire.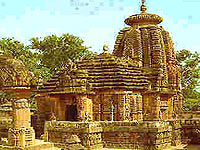 Mukteshwar Temple
Mukteshwar temple, one of the most prominent temples of Bhubaneswar, has been constructed in the style that is quite similar to the one used in the Kalinga School of Temple Architecture.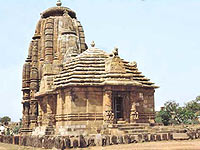 Rajarani Temple
Rajarani temple is one of the most renowned temples in Bhubaneswar, the capital city of Odisha. It is made from the wonderful red and gold sandstone, which is locally known as Rajarani and this is what gives the temple its name of 'Raja Rani'.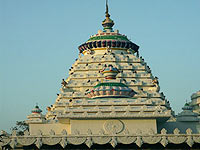 Gundicha Temple
Gundicha temple is one of the most renowned temples in Puri, located on the northeastern side of the Jagannath temple. The origin of the temple can be traced back to the sixteenth century.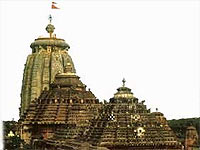 Jagannath Temple
Jagannath Temple is one of the most renowned as well as the biggest temples of Odisha. Established in the 12th century, the temple is dedicated to Lord Jagannath (Lord Krishna), Lord of the Universe.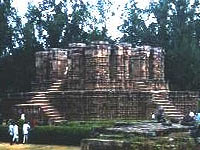 Ramachandi Temple
Located towards the southwest of Sun Temple, is the Ramachandi temple. It has been named after Goddess Ramachandi. However, there is lot of confusion over the presiding deity of the temple.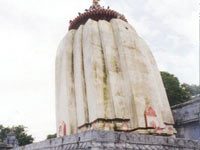 Huma Temple
Huma temple, situated near Sambhalpur, was established in the year 1670. It is believed that the temple was built by the King Baliar Singh, the fifth king of the Chauhan dynasty of Sambalpur.

Sun Temple
Sun temple is one of the most popular tourist attractions of Konark. The credit for constructing this 13th century old shrine, dedicated to Sun God, goes to Raja Narsimhadeva of the Ganga dynasty.