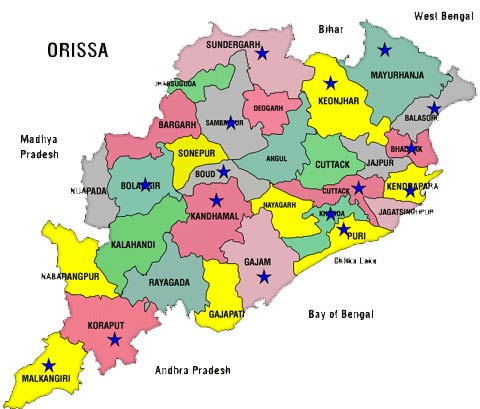 Odisha located between 17o 49'N to 22o 34'N latitude and from 81o 29'E to 87o 29'E longitude on the eastern coast of India. West Bengal in northeast, Jharkhand in the north, Madhya Pradesh in the west, Andhra Pradesh in the south and the Bay of Bengal in the east bound it. Odisha was separated from Bihar and came into existence on 1 April 1936.
The capital was established at the historic city of Cuttack, located at the apex of the Mahanadi delta. In 1956, it shifted to Bhubaneswar, a planned modern town of the post-independence period. Based on physiographical characteristics, Odisha can be divided into three broad regions - the Coastal plains, the Middle mountainous country and the Plateaus and rolling up lands. The Odisha Coastal Plains region stretches from the West Bengal border i.e. from the River Subarnarekha in the north to the River Rushikulya in the south. This region is the combination of several deltas of varied sizes and shapes formed by the major rivers of Odisha, such as the Subarnarekha, the Budhabalanga, the Baitarani, the Brahmani, the Mahanadi, and the Rushikulya. The Middle Mountainous Region covers about three-fourth of the entire State and comprises the hills and mountains of the Eastern Ghats, which rise abruptly and steeply in the east and slope gently to a dissected plateau in the west running from north-east (Mayurbhanj) to north-west (Malkangiri). The Plateaus are mostly eroded plateaus forming the western slopes of the Eastern Ghats with elevation varying from 305-610 metres
Odisha has 30 districts: Angul, Bolangir, Balasore, Bargarh, Boudh, Bhadrak, Cuttack, Deogarh, Dhenkanal, Gajapati, Ganjam, Jagatsinghpur, Jajpur, Jharsuguda, Kalakhandi, Kendrapara, Keonjhar, Khurda, Koraput, Malkangirir, Mayurbhanj, Nabarangapur, Nayagarh, Nuapara, Kandhamal, Puri, Rayagada, Sambalpur, Sonepur and Sundargarh.
Economy of Odisha
Over 76 percent of the people are dependent on agriculture. Out of the gross cropped area of 87.46 lakh hectares, 18.79 lakh hectares are irrigated. Rice, pulses, oil seeds, jute, mesta, sugarcane, coconut and turmeric are important crops. There are also cash crops like tea, cotton and rubber. The state contributes one-tenth of the rice production in India. Jute, gram, sesame, ragi, mustard, rape and maize are second-ranking crops in different districts. District-wise, jute ranks second in Cuttack and Balasore, gram in Puri and Phulabani and Maize in Mayurbhanj. The infrastructure for the development of industry in Odisha is available.
A combination of coal, iron ore, limestone, bauxite and a host of other minerals on the one hand and port facilities on the other are the unique features in Odisha. In addition, the bountiful forest resources and agricultural products provide ample scope for the development of forest-based and agro-based industries.
The major industries of the state include cement, aluminum, ceramic glass, chemical, fertilizer, heavy water, a aeronautical industry, and agri-based industries such as cotton textiles, sericulture, sugar mills and rice mills.